2017 By the Numbers A Visual Representation of  Some of the Most Interesting 2017 Statistics
---
January 3, 2018 12:15 am by Jacob McAllister
---
---
It has been an amazing and unprecedented year for political journalism. The news cycle has experienced information overload at times throughout the year, creating an environment of chaos and confusion. Taking a break to analyze some hard data can be just the antidote to the spectacle our media has become.
We now live in the era of big data, where virtually everything that we do is tracked. Visualizations like these allow us to view some of that data in a more human light. With that in mind, here are some of the more interesting charts and graphical representations from the events of this past year.
We start with the issue of taxes, where despite common perceptions, Americans are hardly crippled by a massive tax burden:
And the Republican party finds themsevles in the unenviable position of having to sell an unpopular bill that was rammed through in the middle of the night on a party line vote.
On the subject of climate change, this chart illustrates that the flooding in Houston was much worse than was estimated.
Is the United States marching head first towards another Cold War with Russia? As always, follow the money. It certainly looks like we are trying to project strength in the region.
Moving on to internet privacy, Google released its annual transparency report, which details the total number of requests made by governments worldwide for users' personal data. This chart indicates an alarming trend towards more intrusion and less privacy.
This next chart illustrates the public's frustration with our gun laws, and are starting to demand stricter gun laws. How long will these demands go unanswered?
And finally, we would be remiss to not include a chart chronicling president Trump's historically low approval ratings. One year in, and he has proven absolutely unwilling to make any attempt at building a consensus. The rest of the world is certainly taking notice, while here at home, a striking number of Americans are opting for the highway over Trump's way.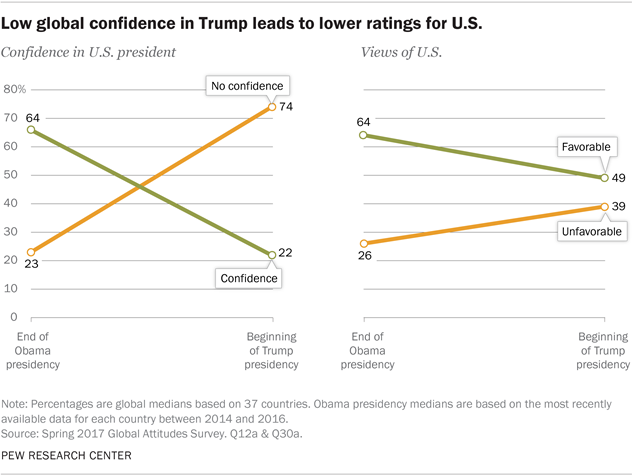 Also be sure and check out Bloomberg's 2017 In Money, it features amazing graphic design:
Market highs, a venture capital boom, and record-low unemployment were just some of the defining moments for investors in 2017
And for some of the finest visual journalism of the year, ProPublica has you covered:
Reporter Heather Vogell examined how schools nationwide are dodging accountability ratings by steering low achievers into alternative programs. A deep dive into the data by our News Apps team uncovered thousands of students who left alternative charters run by a for-profit company in Orlando, Florida – the nation's tenth-largest school district – but weren't counted as dropouts.
---
Policy